Pharmacies, Vitamins and the Philippines
A normal street in downtown Manila. Outside a branch of Mercury Drugstore, an employee dressed as Snow White hands out free trial packs of multi-vitamins from a basket like some kind of Disney drug outreach worker. This is Saturday afternoon and families mill menacingly round malls and gangs of tweens tweet at each other as they swarm through the plazas and precincts. As an outsider, it seems...
The End of Structural Debate
Politics and political economy are not my strong point. I was in fact rejected for a history and politics degree when, as an over-enthusiastic 18 year old who claimed to have read Prouhdon, I struggled to explain quite why property was theft. I have always been an overly enthusiastic name-dropper… However, I have been struck by what seems to be the end of any last remnants within the public...
6 tags
Burgers, Lobsters and the Petit Trianon
Marie-Antoinette had an interesting way of unwinding at the Petit Trianon, the small Palace that was her escape from the 'pressures' of Queenship up at the 'big house' in Versaille. In the grounds of the Petit Trianon, she ordered the construction of a hameau, a mock French farming village, complete with rabbits, pigs, cows and some fields of wheat and barley which she oversaw. A.U Wertmüller,...
17 tags
Post-Sporting hobbies and idols may offer us a...
Lance may have a rap sheet to answer when it comes to childhood obesity. Cycling's most high profile figure has left a sizeable black mark on cycling and on sport more generally. The narrative which he persisted on pedalling (geddit?!) in spite of over a decade of steadily mounting evidence preceeding USADA's publishish of their dossier outlining the systematic team-wide cheating that...
7 tags
On 'How to be a woman' by a man
This is not me deciding to dish out advice on something I know nothing about, but rather some thoughts prompted by some of my Christmas reading… Over the holidays I read Caitlin Moran's 'How to be a Woman', though this isn't me taking my first tentative steps towards an exploration of a change of sex. I somehow don't think this book would be the best starting point… The book was...
8 tags
The Golden Age of Staying at Home//Bodley Head &...
Mark Twain claimed that 'travel is fatal to prejudice, bigotry, and narrow-mindedness'. Waiting by the gate to board a flight at Dubai international airport, there is a sample of a few hundred of the earth's residents; a tranche selected by quirks of fate as diverse as late-running meetings in Manila or the impulse to visit a newly-born relative on the other side of the world. Looking around...
8 tags
The eyes have it
As assertions of female strength go, the eye make-up of the women of Jeddah, were they ever to win any battles, would undoubtedly be a catalyst for Pyrrhic victories. Jeddah is a very different town from Riyadh. A historic trading port dating back to the 6th centrury BC, its involvement in Arabian trade has always made it a multi-cultural hub within the Arab world. It is religion, despite the...
6 tags
From Jeddah, on Makati: Trying not to devalue the...
Makati feels like the kind of place where your key life choices should be to eat, drink and masterbate. And frankly it doesn't inspire the imagination and I would be petrified of searching for pornography on my work machine. Fast food chain and identikit 5 star hotels line the corners of the avenues, interspersed by mall after mall, brands and concessions grouped by socio-demographic...
11 tags
Drive Alive
There was a time when the pinnacle of automotive achievement was to be 'the ultimate driving machine' ( I always thought that 'the ultimate driver's machine' would have made a much better line, or if not a great proposition if you were briefing a team for BMW's competition) Car advertising was about technical prowess, engineering as art. This was represented through a number of tropes. Whether...
8 tags
The Paralympic Narrative
Initial mental sketches for the post were filed under the heading 'Why the Paralympics should stand on its own two feet' but I realised that sounded like some kind of sick joke, which certainly wasn't my intention. As the excitement dissipates from this summer's Olympic and Paralympic games, London can look back on what was, a very successful summer. Records were broken, probably most...
11 tags
Google for the curious
Forty day and forty nights since the last post on this blog. It has a faintly biblical ring to it. That fact isn't for lack of ideas, there has been a surfeit of ideas, a torrent even, but run on time. When you finally sit down to write, invariably it is the last thing that you thought of that is the first one out. I was reading a piece in this weekend's FT magazine that reminded me of...
10 tags
The Serpentine Pavilion and the Tate Tanks
Ai Wei Wei and Herzog and Meuron's Serpentine Pavillion was described by its curator as a 'palimpsest of ghosts'. The structure takes the foundation of the previous 11 years buildings and circumscribes their foundations and rubble to create a structure that is both wholly original and yet also clearly derivative. It is less a structure in its own right as it is a meditation on how the past...
6 tags
The rebirth of the shareholder
Shareholders. Those people. The individuals whose ownership means companies put profits before people. Some see it as an opportunity to concentrate the capital accumulated by companies in the hands of the few. Shareholding in bulk by the few is a very good way to increase gaps between those who have and those who have not- allowing them ( if all things are going well…and it can be a big...
11 tags
In defence of copyright- a response to Cory...
Last Friday, Cory Doctorow was speaking at the Serpentine Gallery in Ai Wei Wei's summer pavilion. in many ways it was a setting that was wholly at odds Doctorow's bleeding edge future facing area of expertise. Science writer, journalist, and blogger,  Doctorow blends a faith in the liberating power of technology (primarily in his case, the internet) that he shares with fellow Sci-Fi...
7 tags
On Data and Creativity
Recently, I saw a banner online for a debate at last weeks Cannes Lions titled 'Is Data Killing Creativity?'. Reading the tweets and the blog posts following it, it seems there was a lot of 'its great because it pisses me off' and 'I grudgingly accept it because it gives me the terms of engagement'. Looking at the arguments though, it seems that they all miss the flaw in the question. Data is...
7 tags
Man vs. Food and the New American Dream
I recently watched an episode of Man vs. Food on one of those nondescript channels that populate the badlands between the post-lad hangover zone of BBC and the less salubrious members of the C4 family and the outer limits of the tragi-comic late night masturbatory purgatory of the Babestations and Rabbit Chats, where dead-eyed women mentally compiling the shopping list for tomorrow's ASDA...
7 tags
Harry Belafonte, Malibu, and 'the power of...
Monday this week saw the premiere of Sing Your Song, a film about the life and work of Harry Belafonte. For those unaware, Belafonte is an American-Jamaican singer and actor who is credited with popularising Calypso and other Caribbean music styles amongst a post-war international audience, most famous for his rendition of the 'Banana Boat Song'. The friends and colleagues that he worked...
9 tags
Mother Goose and Consumer Aspirations
Robert Darnton in 'The Great Cat Massacre' expounds how folktales can be used as in powerful source for the social mores and sensibilities of a particular culture at a particular time. The particular version of 'common sense' or dominant norms at the time are reflected in the stories, legends and rituals of that time. He argues against a structuralist or psychoanalytical approach, and instead...
8 tags
Is the Guardian making you Stupid?
I was having a cup of tea and re-watching the night before's Newsnight with a old university friend last week- the rock and roll lifestyle I lead. He's a Labour party activist and an investment banker, which in itself is an interesting piece of cognitive dissonance to possess (…perhaps for another time), but he is critical of much of the grass roots of his party. Though aims are...
9 tags
Am I part of the problem, or part of the solution?
The estate agents have been circling, and a few people sent a link my way, knowing it would ignite a theme that they knew would end up with me writing a piece that would inevitably make no attempt to ground an argument, and instead offered my own externalised version of a discussion that I have been wrestling internally. Thanks to Matt Thompson, and latterly Oliver Cox as catalysts for this The...
10 tags
What Brands can learn from Croydon
A few weeks back FailToPlan ventured to wild hinterlands of South of South London. Frankly, this blog was intrigued by a plethora of publicity for a new Tour of Croydon, a town known for Tiger Tiger, 'facelifts' and Peep Show. None of these seem like the values and qualities associated with a 'brand' that others can learn from. Now at this point it is probably fair to admit a certain bias at...
9 tags
Kasi Pride
FailToPlan has had the privilege of being able to go to South Africa last week for research. There are any number of patronising things that could be written about how western citizens could learn from the residents of Soweto who made up the sample of people that I spoke to. We could look at the flexible and determined approach that the young men and women of the townships see their career...
11 tags
Oh me old China, you're the drama queen!
There is a school of thought that suggests judgement on China Mieville's essay on 'apocalyptic London' should be reserved until Monday, when a longer version is posted to the sensationally-titled website www.londonsoverthrow.org. Depending on the thread that the 'extended version' navigates this may be a response to bad editing on the part of the NYT rather than the author. But with a URL like...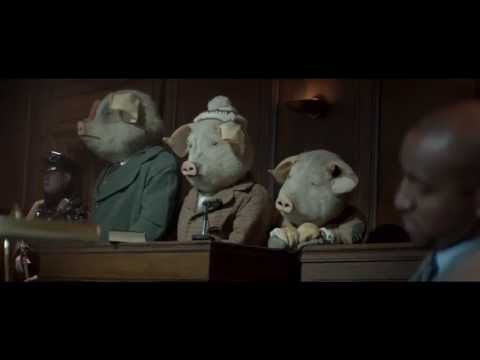 Failing to plan
This is not a condemnation. This is a rallying cry. Well, of sorts. These are some thoughts following the departure of FailToPlan from the plannersphere proper. These are some of the things that you observe when you look at the industry with the same incisive, alien-in-the-room, obsessed with 'why' glasses that we wear everyday for clients. And this is only one persons impression. And a sample...
13 tags
Bricks and Mortar in a digital world
With Amazon killing the bookshop, and the difficulty in finding a mainstream record store in central London, one could be forgiven for thinking that retail as we know it is dead. In many respects it is, or it is a least evolving. Online shopping grew 14% last year in the UK, to £50bn. So maybe it is time for everyone to shut up shop and move on(line). But just as video didn't kill the radio...
12 tags
Games with value
Fail to plan is long overdue a first entry for this year. At some point in January, there is probably call for a predictions for 2012 post. Alternatively, when last years predictions are reviewed, if most of them are still yet to be borne out, then the I may well re-post that entry from 12 months ago… Last year, I wrote a post offering an interpretation on the riots that occurred...
8 tags
Nihil Urbis
Long overdue, but the final piece stemming from my freelance gig in Pakistan and Dubai.   This post may be in danger of covering ground that has been trodden more eloquently already, notably by George Saunders in his 2005 essay, The New Mecca, or more recently by AA Gill, Dubai on Empty. The two pieces both describe the place admirably, two journalists writing evocative profiles of a city,...
9 tags
Democracy, red in tooth and claw
This is very much a half-formed idea, a sketch of sorts, so please excuse me while I try and articulate some initial thoughts- I feel this may be one to revisit at a later date.   One of the topics that came up time and again in conversation with the citizens of Pakistan, from the staff at our guesthouses, through to the planners at the local agency was corruption; that money could buy power....
11 tags
Cognitive dissonance and the youth of Pakistan
Having the chance to speak to the young people of Pakistan on behalf of our client has been a real privilege. The target group that they have identified for the integrated campaign that we are developing for them is an interesting one. In a country where, as described by the CSO at the local lead creative agency, the scale of wealth goes from -10 to +10, rather than 0-10, the client is looking...
7 tags
Struggling with Cultural Relativism
Fail to plan has been freelancing in Pakistan. For the past week I have been in Islamabad and Karachi, trying to get a handle on Pakistan's affluent youth and the contradictions at the heart of their current mentality. More on that later this week if I have the time while I am writing up this project here in Dubai. This initial post is a more personal reflection.   During this trip to Pakistan,...
7 tags
Remembering to forget?
Today is Armistice day, where a number of countries commemorate the dead (perhaps rather I should say, their dead). This year has seen the Royal British Legion's poppy appeal, the UKs "custodian of Remembrance, ensuring that people remember those who have given their lives for the freedom we enjoy today". Of course the key symbol of this, the poppy, is tied to the First World War and the deaths...
12 tags
Conservation, preservation and Stasis/Flux
A file with this title has sat in my Google Docs for the past few months now. Maybe one of the friends that I have been discussing it with was right when he said that it was too big a subject for the intellectual-punch-drunk, beer-tinged conversations that led me me to have this idea rolling round in my head and that often provide the starting point for FailToPlan. I am not sure how much clarity...
9 tags
Reflections on Kabul
Rather than being a point of view, this post is simply personal. I have been back from Kabul for ten days now, in that time I have found out that the place where I was leading planning has decided that they don't need a full time planner, for all the reasons that I raised before they hired me- a most Pyrrhic 'I told you so'. In the meantime I have been hired by a company that I have admired for...
7 tags
Duty Free and the Luxury Paradox
This is probably more linear, more derivative and possibly even veering into pointing out the obvious then the usual orphan thoughts that appear at FailToPlan, but this was prepared as a new biz tool and abandoned by the powers that be, so I thought I would give it an airing. It was designed specifically for the members of one of the Global Duty Free trade associations, to explore the potential...
7 tags
The Car in Front...
…is a Toyota. This isn't sloganeering pt. II, though there are a few interesting thoughts that I want to explore. Failtoplan is currently in Kabul, (Long 'aaa' not short 'a') and this has a few consequences. Firstly, I cannot confirm or deny whether my insurance covers kidnap and ransom, secondly, I can buy root beer, and thirdly, I have a shortage of reliable...
9 tags
Sloganeering pt. 1 L'Oreal
I plan this as an ongoing series- a fallback for weeks when I have nothing to say and an added bonus for times when there is more to be said. L'Oreal's longstanding slogan seems a good place to start this irregular series of deconstructions. Why is this such a powerful idea. Why has the economist recently referred to the young rioters in the UK as the 'Because I'm worth it' generation. If we...
8 tags
Greek Tragedy, British Farce
Having just returned from ten days in Greece, split unequally between the stunning, rocky and rather un-touristic island of Syros and a long weekend in Athens I thought failtoplan could provide opportunities to try and unpick a few of the thoughts I had while out there. The first of these relates directly to the trip and to Greece. FTP harbours no ambitions to be an economics blog, or even a...
12 tags
Urbanism, a Counter-narrative
Last year, in April, the WHO announced that half the world's population were now living in cities. Now using the positivist, 'everything is getting inexorably better' narrative, this is yet a more evidence of our growing success as a species, continuing to evolve our environment and moulding it into a continually better form. This relies on an inherently benign and empirical view of the history...
7 tags
Google+ and Social Shopping
There has been much written in the social media online press about the 'battle' between Google+ and Facebook. Depending on whether the commentator has been dwelling on the Google+ interface itself or its use in browser, there are a couple broad views- one that it is/isn't a facebook killer and whether one believes is will suceed or fail, is a direct competitor. The other sees it as a social...
12 tags
The micro-generational schism and why 28 is the...
What's the difference between twenty four year olds and people with mortgages? You can't get a mortgage when you're four, even if you do try and form a toddlers' buying syndicate with your pocket money. Poorly constructed jokes aside, there is a very curious difference between most 24 year olds and most 28 year old. Certainly in the UK as least, where home ownership is built up to be such...
9 tags
Socialising and Evolving CarWoo
This is a slightly strange post. After much batting back and forth of ideas concerning riots on the streets of London, riots on the streets of Birmingham, I wonder to myself how much more there is to say. A lot of course, but an off the cuff tweet from one of my favourite start-ups from the past few years provided a great excuse to write about something else.   CarWoo is a service that turns the...
11 tags
Teaching the norms of both consumption and...
Raiding trainer stores, stealing mobile phones, smashing into money stores and pawn shops. As many of the 'string them up' lobby has been pointing out online, these people are not stealing to survive. But this is not an audacious raid on Gucci. They have not been forming up in Knightsbridge to try and gain the baubles of the very elite. Nor are they stealing bread to feed their families. What...
5 tags
When Britain and 'Shadow Britain' collide
Many people have been guilty of a vast misjudgement. This blog has already somewhat missed the point in posts earlier this year that bragged of integration, regeneration and the cultural vibrancy of Britain and the capital in particular. Though an article ten days ago here covered the other side, a warning as to what could happen if the wealth and increase and cultural exchange in London is not...
10 tags
Urban regeneration...Urban disconnection?
Apologies for a very UK-centric post, international readers, please get me on @alouneou to clarify any too-obscure UK references.   I live in Brixton. Prior to this, I lived in Norbury, and before that, from the age of 6 months, (the age I moved over from West Palm Beach FLA - yes I am technically American) I grew up in Streatham. Barring an intervening three years in a second string British city...
9 tags
Pissing in the wind at the fountain of youth
This is long overdue. Apologies for lack of updates. Note to self- blog little and often…!   This summer as festival season has descended upon us once more,  these events continue to become more and more mainstream. Something dropped into place for me though this year, indicating how I believe this works as part of a wider and stranger phenomenon. Every year, for the past half decade at...
9 tags
Grayling and Groupon-Cynically cashing in?
Groupon and the New College of the humanities. Not a pair that one would usually expect to find together. Unless AC Grayling is running some kind of special promotion to the get the first years intake through the door. However, the left-liberal press in the UK and the early-adopter, tech-watching internet bloggers have dedicated a lot of cynical copy to both recently.   Groupon it seems is...
15 tags
From Web Citizens to Stakeholders?
Watching 'All Watched Over by Machines of Loving Grace' I was struck by a few ideas from that that were both interesting and contrary to the current orthodoxy surrounding technology, computers and the internet-that they are very much a force for good in our lives. One of the dissenting voices, or at least one of the voices that is at least offering constructive criticism about how we could shape...
7 tags
A Postscript to an old post
Thanks to @enderle for flagging this on Twitter http://is.gd/mb8AzL More support for the the slightly more worrying side effects of our new online liberty, and the plastic nature of truth, especially when it comes to Wikipedia as I was flagging last December-  http://failtoplan.tumblr.com/post/2312738789/ingsoc-org I am currently going through a questioning our web-liberty phase induce by...
6 tags
Culturally Licked- Oreo and Schlieffen Plan...
This blog could be in danger of making this a habit. This is another post about actual advertising. There has been a spot recently running on TV for the Oreo, the Kraft-owned, American biscuit brand. These ash-black, powdery, cream-filled hyper-sugary roundels are an institution stateside. For some time, there have been tentative attempts to insert them into the British collective limbic system....